2022 Native Youth Climate Adaptation Congress
The in-person Native Youth Climate Adaptation Congress (NYCALC) is back for 2022, and applications are open. The National Conservation Training Center in Shepherdstown, West Virginia will be hosting the 8th annual Native Youth Climate Adaptation Leadership Congress, starting June 26 – June 30, 2022. The mission of the Native Youth Congress is to develop future conservation leaders with skills, knowledge, and tools and address environmental change and conservation to better serve their schools and home communities. While exploring culture, tradition and science to answer a big question posed at the beginning of the week, students will lead the congress and focus on major challenges in their communities. Themes from their answers to the big question will emphasize the importance of language, elders, political involvement, traditional values, cultural preservation, and social-economic and environmental awareness.
Tribal youth groups interested in joining the Native Youth Congress should have between three to five students, consist of rising high school seniors, be a part of a federally recognized Native American Tribe, and sophomores and juniors will be considered on a case-by-case basis. Applications for this program can be found at NYCALC.org and will be accepted December 1st – February 28th, 2022.
Check out the Youth site page on the BIA Tribal Climate Resilience site to learn more about past NYCALC experiences and to see the Public Service Announcements made by students!!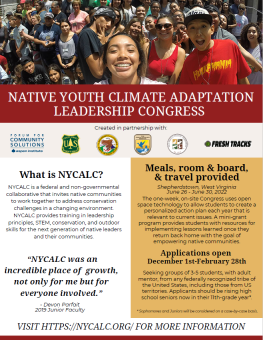 2022 Jr. Faculty COMPETITIVE Nomination Form