YRDFA has been working on a project, funded by the North Pacific Research Board, since 2014 which is trying to describe how people of the Yukon River value salmon. Project lead, Catherine Moncrieff, has been working with the communities of Russian Mission, Nenana, and Fort Yukon who are serving as communities representing the lower, middle, and upper river. This qualitative social science project is gathering data through interviews with knowledgeable fishers about the role salmon plays in their lives and the lives of members of their community.
This article is intended to update those interested on the project progress. The most recent activity was a workshop held in Fort Yukon on June 20th of 2016. The workshop was held to review, in detail, the draft chapter on Fort Yukon. Six knowledgeable fishermen and women attended. These individuals were selected, by their community, as knowledgeable representatives. They each devoted 4 hours to the workshop plus time prior to review the draft article and gather their thoughts about important comments to make. After the workshop, Catherine compiled their comments and revised the draft. Currently they are reviewing the second draft.
Other activities that have already taken place on this project include the interviews in each community and the hiring of a local assistant in each community to help while Catherine was working in each community. The Nenana chapter has been completed including a community meeting to discuss the draft. Key community members have already offered their comments and they have been incorporated into the chapter.
Next steps include drafting the Russian Mission chapter based on the interviews and sharing the draft with the community of Russian Mission. Catherine hopes to hold a workshop there to review the draft this fall or early winter. After the Russian Mission chapter, Catherine will write the rest of the report to include the introduction, discussion and conclusions. This full report draft will be sent to each community for their review. Upon their approval, it will be shared with the grantors, the Yukon River community at large and other interested parties. Finally, Catherine hopes to submit a paper to a peer reviewed journal and perhaps present at a professional conference on this important topic.
Please contact Catherine at 877-999-8566 or Catherine@yukonsalmon.org with questions or for more information.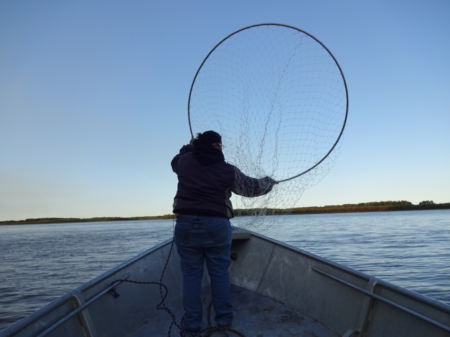 Dip netting near Russian Mission 2016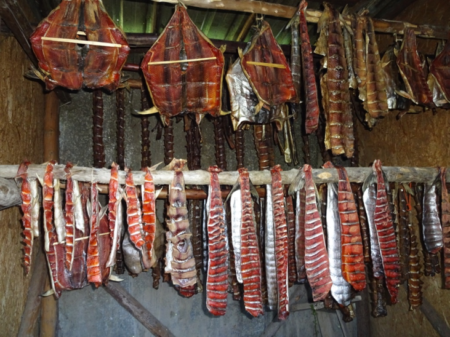 Fish Rack in smoke house, Russian Mission 2016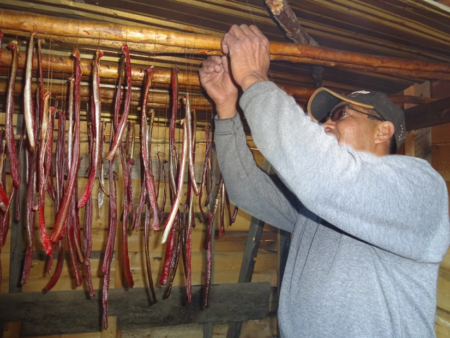 Rondell Jimmie adjusting fish strips drying in a smokehouse, Nenana 2015

A fish wheel on the banks of the river in Nenana, 2015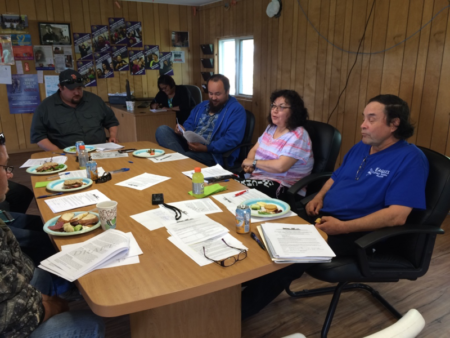 Workshop in Fort Yukon, 2016. Pictured Andrew Firmin, Edward Alexander, Diane Bridges, Richard Carroll II.

Fish wheel outside of Fort Yukon, 2016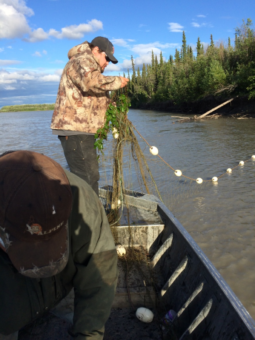 Andrew Firmin checking his net outside of Fort Yukon, 2016